Volksworld 2018 – you can't keep us away!
The VW California Owners Meet at the World Famous Volksworld Show is back again for 2018! So if you are proud of your Volkswagen California and would like to be a part of this amazing event, please send an email to ryan@campervantastic.com with a couple of photos of your van and a few words about yourselves.
You will not only get to hang out with some of the coolest Volkswagens in existence, you will also receive a complimentary goody bag, bumper stickers, an exclusive discount code to shop at CamperVanTastic, free entry to the show and discounted camping (should you require it).
We have managed to secure this exclusive spot for Volkswagen California owners to be a part of our display area on the 24th and 25th March 2018 – so if you have one of these fantastic campervans and would like the opportunity to be a part of the show, then we want to hear from you – and that means all Californias including the Type 25, T4, T5 and New T6 VW California Ocean and Beach!
There will be Show 'n' Shine, Live music, Food stalls, Bars, Camping Zone, Tech Talks, Traders Area, exclusive VW Cali Clinic – plus you'll be able to see the BRAND NEW T6 Ocean & Beach!
it really cannot get better than this!
In partnership with CamperVanTastic (the show sponsors) we have places available for 20 California owners to join our display area, either for one or both days.
Every vehicle will also get free entry into  CamperVanTastic's "Best of Show" competition and stand the chance of winning an award and prize!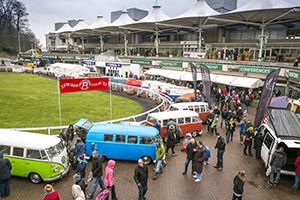 The Volksworld Show is held at the Sandown Park Racecourse, Esher, Surrey from the 24th to 25th March 2018.
Please click on this link for directions, or find out more by visiting the official website which is at www.volksworldshow.com
We look forwards to seeing you all there!
________________________
Please note that, in the interests of public health and safety, entry will be subject to certain conditions. We will inform you of these once you have expressed your interest.
It is also important to note that, while you do not have to stay with your vehicle, you will need to have your California available approximately between 9am and 6pm on the days of the show as there will be no way of moving your van once it is in the showground.