Dreaming of driving a Volkswagen Campervan into the wilds but not sure if you are ready for the responsibility of full time ownership?
If this is the case, then Volkswagen California Hire may be just your ticket to a whole new world of adventure. But, before you race out to rent the first available van, we suggest you take some time to read the following points and consider the important things you may need to be aware of.
Remember that cheapest is not always the best or most suitable option, which means you should find out everything the company offers so you don't come unstuck should you later discover the comforts you require aren't included in the deal.
Part 1. Why the Volkswagen California?

Not all vehicles will come with the top of the range engine or vehicle specifications. find out the power of the engine and fuel economy, and on older vehicles look for ABS, airbags, rear seat belts and other safety features.
Some newer vehicles may have privacy glass, double glazing, air conditioning, heated seats, stop/start technology (Bluemotion), parking assistance and other state of the art features not present in older vehicles – such as the integrated satellite navigation system and handsfree calling present only in the top level Californias.
While there is a certain charm about the classic Volkswagens, it's important to note that this often fades when you discover how slow they can be, how uneconomical they are on fuel, and how "hit and miss" the handling is.
We know that not everyone is concerned with technological features, but a great driving experience makes a massive difference to being refreshed enough to enjoy the sights along your journey. As well as a fantastic time camping at your chosen destinations, for many people it's just as important to enjoy the ride.
What's included in your van?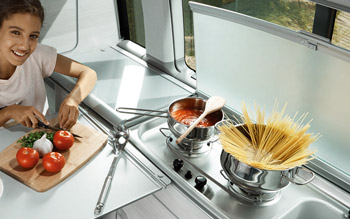 The best companies will include everything you will want for your adventure, such as all the crockery, cookware and cutlery you'll need. Also, level ups, electric hook up cable, socket adapter, comfort mattress topper, roll out sun canopy, TV/DVD player and satellite navigation – some may even provide tea and coffee for extra comfort.
Many will charge extra for the privilege of a fully stocked up van, so make sure you're not caught short when wanting that roadside brew.
Some companies also provide a wide selection of other extras, such as drive-away awnings (some easier to use then others), bike carriers, tow bars, roof bars and boxes, barbecues, hammocks, additional chairs, chemical toilets, child seats, snow tyres and chains, hot climate packs, cold weather packs and more. Even if you don't think you need these items, it's always good to have them as an option.
Part 3. Insurance, breakdown and security
Along with standard comprehensive insurance, find out whether they offer the option of a collision damage waiver which will save you from paying a hefty excess in the unlikely event of an accident.
Also, be informed that (as with all travel) you may wish to take out additional insurance for personal items, including anything attached to bike racks and roof bars. A good company will advise you of any potential issues that you may need to cover for beyond the vehicle itself.
All good campervan rental companies will publish their terms and conditions of hire, so we recommend you take time to read these thoroughly to acquaint yourself with both your rights and responsibilities as a hirer and anything that may be excluded from your cover.
Please note that not every hire company will use vans that are still under warranty, and while most vehicles have some kind of breakdown cover, only the Volkswagen California is purpose built by the manufacturer.
This means that, if your hire vehicle is still fairly new, then everything from the engine to the tap washer will be covered and can be dealt with by your nearest Volkswagen dealer. Anything other than a California and you could find your broken equipment on backorder indefinitely.
Some companies will also use tracking devices to protect the vehicle from theft and unauthorised use. This means the vehicle speed has been monitored and you can be assured it has been driven carefully and well looked after. It also means the company can inform you of any incurred charges and tolls that you may otherwise forget and be fined for.
Finally, ask the fleet size so you can avoid missing out should you need a replacement vehicle – while the vans themselves are extremely reliable, it doesn't mean that things never go wrong.
3. European Cover and equipment
For now, it is still a legal requirement that all UK motor insurance policies have third party cover for the European Union — but it's very unlikely your hire company will allow overseas travel without comprehensive cover. Therefore it is a good idea to enquire with the company to make sure they offer this, should you decide to leave the UK.
A reputable hire company will provide you with all the necessary equipment you will need abroad, and this also varies from country to country.
Depending on where you plan to visit, the required extras could include warning triangles (two for Spain) alcohol sensors, high visibility vests (one for each occupant), bike rack warning signs, headlight beam converters, EU hookup cables, winter tyres, and of course, the appropriate paperwork to prove you have permission to take the vehicle to the country you are visiting.
Part 4. Are they BVRLA approved?
If the hire company is accredited by The British Vehicle Rental and Leasing Association then you have the ultimate in protection in the unlikely event that anything goes wrong.
Members of the BVRLA have to follow a stringent set of rules that offer customers total security, including a mediation service should disputes ever arise. For example, they offer guidelines on what constitutes "fair wear and tear" and issues with windscreen cover and insurance excesses; all potentially contentious situations when dealing with the return of security deposits etc.
If the company does not have BRVLA quality assurance you may not receive the level or service you deserve, and as such we strongly advise you to tread exceptionally carefully.
Does their reputation check out?

Look at Twitter, Facebook and other social networking sites to see how many followers they have and how easy they are to engage with. Also, search Google for reviews, news articles and any other information you can find.
There is no better way of checking a company than by looking for recommendations from previous users, but there are also news articles, accreditations, affiliations and awards they may have gained through their years in business, and most companies are usually happy to share this information on their website.
Speak to the company themselves; gauge email correspondence, or better still telephone or visit to see how helpful they are. Are they happy to speak with you about your requirements, are they considering your overall experience, or are they just trying to sell you add-ons you may not need?
The more established companies will advise on extras based on the type of holiday you are looking for, and their staff should have extensive collective experience of everything you should want and expect from your adventure.
A good company will be happy to discuss their favourite campsites, offer travelling tips and explain any part of the vehicle you need help with. They should also explain the hire agreement in a way you can understand and be available to answer other questions or concerns you may have.
Part 4. Hiring privately owned vehicles
Some campervan owners privately hire out their vehicles as a means of generating extra income. Sometimes they do this as individuals, but often they work through an agency or online "booking engine" who arrange hire on their behalf.
No matter how genuine these people may seem, and most of them are incredibly well intended, our advice is to proceed with caution. Always be vigilant when dealing with such vehicles or agencies, and read the previous six points carefully in advance of agreeing to hire.
A privately owned hire is likely to be much a more personal experience, especially if the vehicle is the only one in ownership, and as such it will likely be a part of the family. Your return experience could be much more uncomfortable if there is any damage or if anything goes wrong, or even if it fails to live up to your expectations.
Occasionally we are told of worst-case scenarios of double-bookings and other situations where the van became unavailable at the last minute due to personal circumstance, and also tales of deposits not being returned and suggestions of damage where the handover wasn't carried out thoroughly.
Worst of all we have seen people part with money, only to later discover there was never a van to begin because the booking agent had listed a bogus advert. Festival goers seem to be most vulnerable to this type of scam – so please be especially careful if this potentially applies to you.
Thankfully nightmare experiences are very rare, and most private hirers are authentic, but it is wise to consider all possibilities when dealing with anyone who isn't well established and cannot provide shining credentials.
As always, we advise you to do your homework, explore everything and do not be afraid to ask questions.
Part 5. Insist on a professional handover

An experienced hire company specialising in Volkswagen Californias should be able to offer you a thorough handover, usually lasting 45 minutes depending on your previous experience.
During this time they will explain all the fixtures and fittings, how to change gas bottles, operate the roof, turn on the water and adjust the heating and air conditioning. They will also be able to demonstrate any additional extras, like bike racks, roof bars and awnings.
You should then be able to walk around the vehicle with the person handing over the van to inspect the bodywork, tyres, pop-up roof and interior. The vehicle should be clean and tidy, with enough fuel, gas and water to see you on your journey. Only when you are satisfied should you sign and drive away.
In conclusion
A holiday is supposed to be the chance to break away from the stresses and strains of modern living. So, while there are plenty of choices available for hiring a campervan, whether for a short weekend away or a longer adventure into more remote parts, it's never a bad idea to consider exactly what your requirements are and do some homework before making that investment.
Things are better when we don't cut corners, and therefore we always recommend using an established, experienced and trustworthy Volkswagen California hire company above anyone else, because a carefully planned adventure will make the world of difference!
___________________________________________________________
A quick note to hire companies…
If you own or manage a reputable hire company, then you may wish to consider being added to our new featured hirers map.