Top Ten Tips For Campervanning
With half term on its way and Summer holidays already looming, it's a good time to think about how you'll handle the loss of home comforts if you're planning on Camper Vanning this year. Hitting the open road in a camper van is an increasingly popular way to holiday with family, and with so many luxury vehicles on the market it's the next natural step up from glamping.
Campervanning in the UK can have its drawbacks – the English weather for one. But while we can't do anything about that, we can offer you expert advice on how to make any campervan trip this summer as smooth and stress-free as possible. We consulted founder and director of Camper Van hire company Campervantastic, Kate Lumley, for her hacks, tips and tricks when campervanning this summer, be you seasoned traveller or first time trier. Here's what she said…
1. Think quality not quantity when packing.
Plan your storage both for when you're on the road and when you reach your pitch. The more stuff you bring the harder it is to stow it away, find the things you need and keep the dinky campervan interior clear of debris.
2. It's all about layers!
The sunniest day can end in a surprisingly chilly evening, and with the English weather notoriously unpredictable you might just end up wearing everything at once! A hat and some big woolly socks are essentials, even in the Summer they keep the evening chill at bay.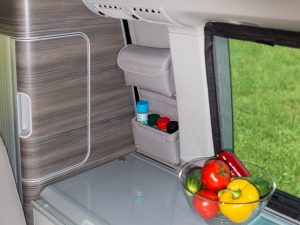 3. Pack directly
Put everything into your campervan rather than putting everything in suitcases and boxes. Packing cubes are your friend as everyone can have one or two and they are easily squished into small cupboards or around bigger items in the boot.
4. Lighten Up
Solar powered or battery-operated fairy lights are available in most supermarkets at this time of year. Pick some pretty ones and string them around your pitch – you'll always know where to come back to when it gets dark.
5. Take a Torch
Head torches are a great accesory as they leave both hands free to take care of the important camping stuff!
6. Plan Ahead
Some quick breakfast options on hand for kids make life much easier when they wake-up with the larks! A porridge pot or cereal bar should keep them going for a couple of hours before you face the day and cook up a leisurely brunch!
7. Pick a perfect pitch.
We love the "Cool Camping" guides for finding the quirkier sites, plus you can search 'allows campervan' as an option to ensure the site is suitable. Once you've identified your campsite look it up on google maps to find out if it really is that close to the beach or far enough away from the motorway traffic. Also check whether they allow camp fires because nothing beats sitting around a fire toasting marshmallows.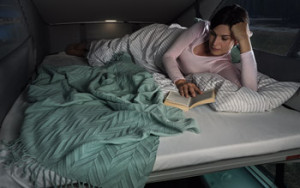 8. Sleep Well
Good sleep is the key to a successful trip so make sure everyone has a comfy, warm bed for the night. I love taking proper bedding including pillows, duvet and a fleecy blanket or throw and always make sure the beds are made before drinking wine and sitting around above-mentioned fire! Also comforts from home like pyjamas are more than just practical, it's not a fashion show but think about what you might wear when sneaking off to the facilities in the middle of the night, you'll see some seasoned campers strutting about in dressing gowns!
9. Enjoy The Dark
One of our favourite things about camping is the spectacular view of the stars. You don't need any special equipment to discover a number of constellations, just get as far away as possible from artificial light and a star book or app can guide you easily around the night sky.
10. Relax
One luxury item you may not have considered to sneak into your packing is a hammock. CamperVanTastic sell these amazing hammocks made from Parachute Silk that are unbelievably relaxing. Perfect for an afternoon doze below a tree canopy.
Adapted from the article on Belle About Town by Emily Cleary