Snow place like home – Christmas in a VW California
According to a survey carried out by Bassetts Vitamins, families are spending less and less time together – with 43% struggling to find time to eat as one – all of which means Christmas dinner may be one of the only occasions where everyone sits around the same table.
Of course, this was pre-pandemic, before working from home was at the same level it is now — but with our heads stuck in zoom calls and computers, it doesn't mean the same does not apply.
So, we've revisited this article again to encourage families to spend quality time this Christmas, to remind of us the year when Volkswagen Commercial Vehicles challenged chef and founder of the 5 O'Clock Apron blog, Claire Thomson, to go off-grid in the New Forest with her family to create a festive feast in a Volkswagen California Ocean Campervan.
Kate Thompson, mother of two and Head of Press and Public Relations, of Volkswagen Commercial Vehicles, said: "While for many the Christmas meal is daunting enough in a fully equipped kitchen at home, Claire proved the iconic campervan is all you need to cook up a delicious three course meal."
Claire and her husband – former Michelin starred chef, Matt Williamson – made use of the two gas hobs, fridge, and running tap that all come as standard in the California Ocean. The couple also propped up the preparation table and rotated the two front seats to create a spacious kitchen area in which to prepare their festive feast.
Claire created the original recipes to ensure they included all the essentials so her family weren't missing out on the true Christmas experience. For a starter, Claire cooked pan fried scallops with hazelnut butter and spinach.
This was followed by a main course of turkey saltimbocca, served with sautéed potatoes, chestnuts and sprouts and dressed with spiced pickled pears. For the final touch, they had Christmas pudding fried with Marsala butter for dessert.
Claire Thomson, commented: "We have stayed in a Volkswagen California before and absolutely loved it. The kids like sleeping 'upstairs', in the top bunk and it genuinely has everything you need to create any meal – even a Christmas dinner. The hobs, fridge and sink make everything really simple, leaving you free to enjoy the time away with your family."
Blogger Claire Thomson and family; cooking up a Christmas Feast in a Volkswagen California Ocean campervan 
Click here for the full festive recipe
Starter
Scallops with Hazelnut Butter and Spinach
Ingredients – Serves 4
12x large scallops
Salt and freshly ground black pepper to taste
1 tsp. picked fresh thyme leaves
30g skinned hazelnuts, roughly chopped 40g butter
Finely grated zest and juice of 1⁄2 lemon
100g washed baby spinach
Vegetable oil to cook
Method
Heat a large frying pan over a high temperature and add about 1 tbsp. of oil. Season the scallops well with salt and pepper and carefully place in the hot pan

Cook for 1 – 2 minutes until nicely seared on one side and then turn the scallops over. Add the butter and the thyme leaves and cook for further 1 – 2 minutes, carefully spooning the foaming butter over the scallops as they cook

Add the spinach to the pan along with the hazelnuts and lemon zest

Remove from the heat and serve immediately together with all the pan juices

Main Course
Turkey Saltimbocca
Ingredients – Serves 4
4x 150g turkey escalopes
8x slices of prosciutto (Parma ham would be preferred)
8x sage leaves
200ml dry Marsala wine (optional)
2 tbsp. plain flour
2 tbsp. olive oil
3 tbsp. unsalted butter
Salt and freshly ground black pepper, to taste
2x cloves garlic, peeled and slightly flattened with the side of a knife
Method
Flatten the turkey escalope out between cling film (or greaseproof paper) to about 1⁄2 cm, using a meat mallet or a rolling pin. Cut each piece into two and place a sage leaf on each, together with a good grind of pepper. Wrap each piece of turkey in a prosciutto slice and dust lightly in flour.

Heat the oil and butter in a large frying pan over a medium heat. Add the garlic and allow it to just begin to sizzle. Add the meat and cook for about 2 minutes on each side until crisp, golden and cooked through. Remove and keep warm on a serving dish.

Add the Marsala to the pan and bubble it over a high heat until thickened and reduced by half. Taste for seasoning, remove the garlic and serve with the sauce poured over the meat.
Devils on Horseback
Ingredients – Serves 4

12x dried prunes
6x rashers of streaky bacon
Method
Wrap 2 prunes together in a length of bacon.

Fry the bacon wrapped prunes in a pan with a spot of vegetable oil over a moderate heat seam side down to begin with. Fry for about 2 – 3 minutes, turning the parcels until the bacon is crisp all over.

Remove from the pan and keep somewhere warm.
Sautéed Potatoes with Chestnuts & Brussels Sprouts
Ingredients – Serves 4
500g small new potatoes, skin on
1x small onion, finely chopped
10 – 15 brussels sprouts, thinly sliced or shaved Salt and freshly ground black pepper
10x approx. cooked and peeled chestnuts, grated 30g butter
2 tbsp. vegetable oil
Method
Boil the potatoes in well-salted water for about 10 minutes until tender. Drain and cool on a large serving plate. When cool enough to handle, slice into 1cm coins.

Fry the finely chopped onion in the vegetable oil over a moderate heat for about 5 minutes until soft and golden.

Add the potatoes, turn up the heat and fry over a high temperature for about 8 – 10 minutes, at least until the potatoes begin to brown and crisp in places.

Add the butter and brussels sprouts and cook for 1 – 2 minutes more just to soften the sprouts. Season with salt and pepper as necessary and sprinkle the chestnuts over to serve.
Spiced Pickled Pears
Ingredients – Makes 1 large jar
8x ripe pears, peeled, halved and cored
600ml white wine vinegar
300g caster sugar
A couple of thin slices of lemon
1x whole cinnamon quill
1x thick slice of fresh ginger
1x fresh bay leaf
1⁄2 tsp allspice berries
1⁄2 tsp black peppercorns
1 large glass jar – washed in warm water and heated in a moderately hot oven for about 5 minutes to sterilise.
Method
Combine all ingredients (except the pears) with the spices in a pan (big enough to put the pears into) and simmer until the sugar has just dissolved.

Put the pears into the pan and simmer for about 15 – 20 minutes until completely tender and slightly translucent.

Layer the pears in the sterilised jar and pour over the hot vinegar mix including all the spices.

Leave to mature for at least a week before eating.

Stored well, these pears will keep for several months.

Dessert
Fried Christmas Pudding with Marsala Butter
Ingredients – Serves 4
60g butter
40g icing sugar
2 tbsp Marsala wine or use sweet sherry
400g approx. Christmas pudding, cut into 1cm slices Crème fraiche or thick double cream to serve
Method
Cream the butter and icing sugar together until completely combined. Beat in the marsala, then place in the fridge for at least 30 minutes to set (do this ahead of time)

Melt the masala butter in a large non-stick frying pan over medium heat until just bubbling. Add the Christmas pudding and cook for about 2 minutes on each side until golden and fragrant

Place the fried Christmas pudding, together with all the buttery pan juices on a large plate and serve with a dollop of creme fraiche or cream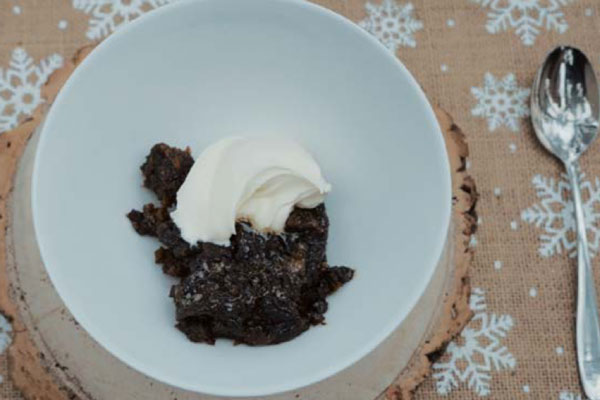 If you're considering a Volkswagen California for your winter adventure then why not check out our featured hirers page to try before you buy, or even go straight to our dealership map to find your nearest California specialist.