Selling a VW California Campervan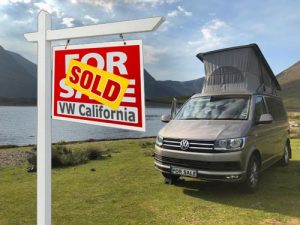 No matter how much we love our Volkswagen Californias, one day it will be time to say goodbye.
Yes, it's true and nothing lasts forever — but before you rush to place that ad and move on to greater adventures (and maybe newer campervans), please take time to read our handy guide to selling your beloved California.
Remember, Volkswagen Californias are premium vehicles — they still fetch top money on the pre-loved market, but that doesn't mean you should neglect the basics as this could make a signifiant difference to how much you fetch for your van and how fast it will sell.
You may also wish to check out our comprehensive buyers guide to see the recommendations we make for anyone purchasing a van. If you familiarise yourself with what people look for it will prepare you for any questions prospective buyers have, and give you a chance to correct or account for any problems before you and your vehicle part ways.
Please toggle through the sections below to view our recommendations:
1. The Big Clean
The first thing to do is to get your Volkswagen California into the best condition possible, and that means cleaning it both inside and out; maybe to a level not seen since you first bought it. While this seems an obvious step, it's amazing how much we can miss when we get accustomed to day to day ownership.
Firstly, consider having a full professional valet as this will really do an amazing job on a vehicle. If you are intending to do it yourself then get some good quality vehicle shampoo and polish, and concentrate on the windows and wheels, and then the rest of the bodywork including the bumpers.
Look for tar spots, bugs and if there are any small scratches consider getting some T-cut (or similar compound) and applying some serious elbow grease. 
Drain off any waste water by turning the lever under the sink. Make sure there are no smells coming from the sink or cooking area.
Make sure the van is free from stains or other smells — including air-freshener smells as well as cooking, smoking and pet smells.
Check the seats, upper bed mattress, the shelf below the elevating bed, the space behind the rear seats, the blinds etc. and wash anything that isn't clean. If you travel with pets take extra care to remove any dog hair etc.
Sweep out, vacuum and wipe inside all the drawers, cupboards and any other nooks and crannies. The compact nature of the California means a lot of places that may not get the same attention for general cleaning — use something like a paintbrush to sweep inside the seat rails, around the handbrake housing, under the seats, around the window frames, around the sink tap and so on.
Clear out any rubbish, clean the top loading fridge and remove any personal items that may still be inside. This can be difficult if you want to use your van while it's for sale, but it will definitely make the van look more spacious.
Wipe and polish the dashboard, paying special attention to any ashtrays and cup holders as these are notorious for collecting dust.
2. Check Accessories and Extras
Do not assume any your personal modifications will add to your van's appeal. Take a look at any extra hooks, towel holders, shelves, mirrors etc. and consider returning the California as close to its original specifications as possible.
Test everything electrical, the gas, the fridge and the hobs. Make sure everything is working properly and consider professional gas and electrical checks to be on the safe side.
It may be worth including a full gas bottle and filling the water tank in order to demonstrate the van's camping functionality.
Update the software on the built in navigation system (if applicable).
Go through all the drawers, cupboards, tables, blinds and pockets and make sure the hinges and mechanisms work.
Check that you haven't left anything behind. For example, sunglasses in the compartment above the mirror or personal items in the back of the seats.
Don't forget to tighten the screws and bolts holding the deckchairs together.
3. Check the Paperwork
Before you sell your Volkswagen California you should really have a valid MOT Certificate — obviously this only applies to vehicles over three years old, but any older vehicles without a valid MOT will certainly raise eyebrows and drastically reduce the chance of a sale. This will also potentially limit your market to dealers who will take advantage of the unverifiable state of repair.
If you purchased your Volkswagen California brand new, then a stamped Service History book will show a well cared for vehicle and will make it a lot more desirable. From 2018 the service record is kept on a database with Volkswagen and they no longer issue vehicles with service books.
Of course, you will also need to have your vehicle registration document (V5C) to show details of the registered keeper. It is not a legal document of ownership, and as such it is also recommended to also have the original sales invoice if you can find it — this is not vital, but a good way of demonstrating authenticity.
As with selling any vehicle, you will need to complete the details of the new keeper and post this to the DVLA as soon as you can. The DVLA recommends not to buy any vehicle if the V5C isn't available, so if you have lost it, it is important to apply for a replacement rather than expecting the new owner to do so.
If there is any Road Tax left on your vehicle, you can apply to the DVLA for a refund. As the old tax disc system is now obsolete, it is the responsibility of the purchaser to organise vehicle tax before driving away.
Along with legal documentation, also try to gather as much of the other paperwork you can find, including the Transporter Handbook and California Supplement — along with any instructions for accessories including trackers, bike racks and navigation equipment.
4. Value Your Van
Our Classified Ads section may give a rough guide to what you can expect your van to be worth, but we advise you to check out other sources too such as the motoring press, auction sites and franchised dealerships.
Be aware that some commercial sellers will list their price exclusive of VAT, something that may not apply to you.
While the Volkswagen California typically holds onto its value extremely well, a fully loaded van with every conceivable extra will not necessarily be as easy to sell at a significantly higher price. It will certainly be more desirable, but may fall outside of some people's budgets who may not understand the reasons for the difference.
The same applies to customisations and additions that you may love but not necessarily to everyone else's taste. For example, you might love your chrome trim, but it won't sell so easily to anyone who prefers a more low key look.
This is a personal judgement call that only you can make, but some people will drop the price of their van in order to make a quicker sale; If you are prepared to be patient then go for a higher price at first and lower it gradually, bearing in mind that it's impossible to negotiate a higher price once listed.
5. Decide where to sell
The quickest and most hassle free way to sell a Campervan is to part-exchange with a dealer in return for buying a newer vehicle. You are unlikely to get the same price as you would by selling privately, but because the sale and new vehicle purchase are completed simultaneously it will save you a great deal of time and energy, and if your California is under three years old you will find dealers much happier to do business with you.
While it can be tempting to accept the first offer, is always worth searching around different dealerships to ensure the best trade-in price as they often vary in their criteria.
An alternative to this is to sell your motorhome to a dealer only, without any part exchange. You will not get the best price unless your California is exceptionally low mileage and almost new, and as such it is even more important to get quotes from as many places as you can.
Selling privately requires investment, including your time and costs related to preparing it for sale. But the rewards can be the greatest, and not only will you get a higher price, you will still be able to use it while teaching for a buyer.
You can place an advert in your local paper or shop window but you may get fewer enquiries, so our recommendation is to use a specialist magazine or website offering classified ads services. If you place an advert in our own Classifieds Section we will also promote your advert via social media (Facebook and Twitter) in order to ensure maximum exposure.
Placing an advert on a popular auction or classifieds website can be cheaper or even free, but your van may end up lost in a crowd and you will potentially be inundated with questions from non-serious buyers.
Of course, it goes without saying to always be careful when selling privately and don't part with any keys for any reason until the money is safely in your account.
6. Showing Your Van
Treat with extreme caution any offer to buy the van without seeing it first or anyone who asks you to meet them in an unusual location or wants to have a courier collect it. These are common signs of a scam and not worth the risks involved.
Therefore we suggest that you never agree to meet anyone in an unknown or potentially unsafe location; always meet at your home or place of work, preferably when other people are around. Also, never hand over any keys, instead unlock the doors and start the engine for them, If someone wants to take it out for a test drive, ensure they have insurance to cover them, and also go along for the ride. Make sure that you have your mobile phone with you.
Take time to show that everything is in working order and to explain the operation of the van — if it's a cold day we recommend putting the heating on before any potential purchaser arrives for their viewing.
There is a lot to learn with these vehicles and our recommendation is to start with the cockpit, elevate the roof and then move to the rear, explaining all the functions a concisely as you go. Explain the importance of opening the windows when lowering the roof and the position of the seats when rotating them to face the rear.
When it comes to payment, the safest method is for the buyer to pay using a direct bank transfer. When the money arrives in your bank account, you can release the camper but do not do this before you are sure. Do not accept cheques, money services or the offer to pay via PayPal, unless the van was actually sold through eBay.
If you do choose to sell through eBay, then PayPal will offer buyer protection, but ensure this is done directly and not by ending the bidding early.
Even in this age of advanced technology, cash is still popular with many people. If you decide to take this option make sure you check each note before accepting them.
7. Legal Bits
As mentioned previously, any prospective customer is unlikely to want to buy your California without being able to take it for a test drive first. It is the responsibility of the keeper to check that the potential buyer has the correct insurance cover and licence beforehand:
The potential buyer can only drive a Campervan on your policy if it is covered for 'any driver', or if the potential purchaser has been added as a named driver.
The buyer may be able to drive your California on their own insurance policy, but this is likely to be 3rd party cover only.
We have also prepared a printable Van Preparation Checklist which you can download from here to use as a template when getting your van ready for sale.